Puratan Janam Sakhis
(References of Guru Nanak Dev Jiís life)
Click to Browse by Script: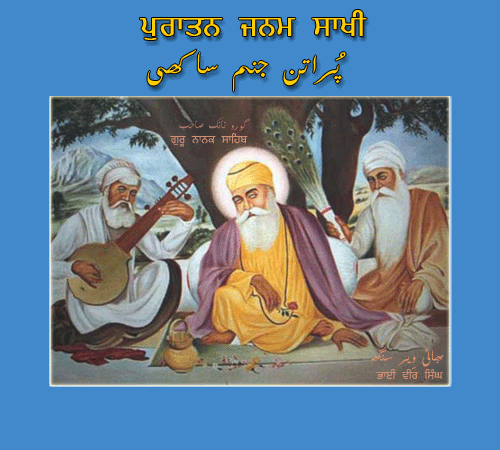 Janam Sakhis are accounts on the life of Guru Nanak Dev Ji, each consisting of a series of separate incidents or chapters normally in chronological order, entitled Sakhis. The script for the Janam Sakhis is Gurmukhi, but the language is either Punjabi or the composite dialect called Sant Bhasa. References of Guru Nanak Dev Jiís life can be found in other works but none of these give us an insight beyond the Janam Sakhis. The term Puratan Janam Sakhis means ancient Janam-Sakhis and is generally used with reference to the composite work which was compiled by Bhai Vir Singh and first published in 1926.
The Janam Sakhis have great historical importance and the online availability of the Janam Sakhis in Shahmukhi will greatly benefit the Urdu speaking researchers and thousands of Guru Nanak Dev Ji followers in Pakistan, Afghanistan, Iran, Iraq and other Muslim countries. This is the first time, that the Janam Sakhis have been transliterated into Shahmukhi and the Sangam Software developed at the Centre was used for transliterating the original text from Gurmukhi script to Shahmukhi. The Janam Sakhis are simultaneously available in both Gurmukhi and Shahmukhi scripts. With a click of the mouse any page of the text can be converted from Gurmukhi to Shahmukhi and vice versa.
Development Team
| | |
| --- | --- |
| | Dr. Gurpreet Singh Lehal (Project Leader) |
| | Rakesh Dawra (Web Designer) |
| | Mandeep Singh (Web Designer) |
| | Dr. Anwar Chirag (Urdu Expert) |
| | Jaspal Singh (Proof Reader) |
| | Shallu Kalra (Data Entry Operator) |